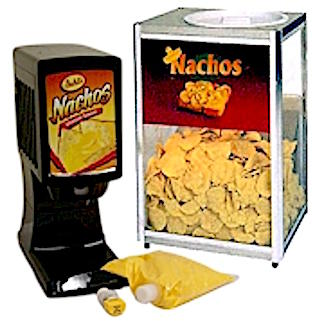 Nacho Cheese Dispenser with Chips Warmer
$50 Customer pick-up, $60 if delivered along with a bounce house.

Rental includes one 140 oz bag of cheese and paper trays. Extra cheese bags can be purchased for $18 each and comes with paper nacho trays.

The three-button dispensing control are set for small (2 oz), large (3 oz) and free flow (no portion control).

Takes about an hour to preheat to dispensing temperature of 140 - 155 degrees.

There is a tray to preheat a 2nd bag of mix.

Customer must supply 2 working electrical outlets- one for the cheese dispenser and the other for the chip warmer.